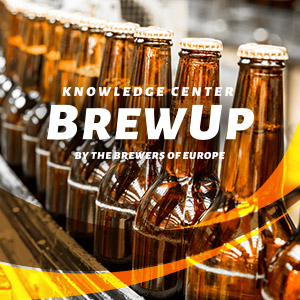 Downloads
Sponsorship Report 2011
Contribution to the economy
This report measures the extent to which brewers of all sizes, across Europe, contribute to supporting the local communities through the sponsorship of different projects in different fields such as sports, culture, art…
---
Assessing the impact of brewers' involvement in communities
The report looks into the theory of community involvement and support, and then using case studies and research conducted amongst brewers and rights owners (such as event organisers), it considers the brewers' involvement in the community and the views of those receiving this contribution as well as noting the opinions of the general public on this form of support by the brewing sector.
Notable overall findings are :
Well over €900 million (€ 928,079,225) is spent annually in the European Union by the brewing sector in supporting the community.
The events supported by approximately 3,300 European breweries cover a wide breadth of activities, ranging from sports (grassroots and professional events) to culture and music, but the majority are community-related projects, which represent 62% of all activities supported.
Community involvement by brewers is not just about mega-deals. Only 11.9% of the deals analysed go to professional sports. The average spend per deal is € 68,208, which drops to € 8,544 if taking out the major deals.
The majority of the sponsorships and community supports studied are at either local (36%) or regional (48%) levels.
Brewers have for a long time been involved in areas where there is big recent growth such as cause-related activities, festivals, and education. This marries up with a new trend in sponsorship for engagement with the community and employees. Sponsorship is now generally seen as a loyalty builder rather than just a sales medium.
The brewing sector, right owners and the general public think that community involvement of the brewers is legitimate and benefits citizens and events through greater publicity, lower ticket prices and enhanced events.
Indeed there is a majority view that beer is appropriate to entertainment and social events such as sport, culture and music festivals and people have an expectation that beer will be involved. Beer is felt to be as appropriate a sponsor as any other sector.
Only 12% of the public think that it would be easy to replace brewery sponsorship of an event, with 77% of brewers and rights holders saying that there would be significant impact from losing brewers' support.
The public believe that taste, store promotions and word of mouth drive brand affiliation more than sponsorship and don't expect cheap beer to be served at events or for it to change their overall consumption habits.
The diversity of the brewing sector is reflected in the wide spread of over 8,000 activities supported by the brewing sector and analysed for this report. These include major and grassroots sport events, culture and arts, charity, conservation and environment, shows and exhibitions, and city and community events. There are also numerous other activities that were not captured by this report's attempt to assess and quantify the extent of brewers' support to Europe's communities.
Being involved in the community has always been a tradition for the thousands of breweries in Europe, with 52% of the public stating that beer should support local communities and 42% of them also saying that beer makes events more enjoyable.
Beer is a local product and European brewers are well rooted in their local community, where they support a considerable range of small activities, from the town festival to the local amateur sport club. They provide cash and in-kind support to events which the public believe would otherwise struggle to exist without it. Brewers therefore contribute to the development and to the coherence of the local life and community, providing social benefits to European citizens after playing or whilst watching sport, when enjoying a music festival, or whilst taking part in a charity or a local town festival.
The value of support by brewers is also considered in this report in the wider context against other research in this area. This analysis supported the findings that the value of such sponsorship and support is essential for rights owners, who rely on it to maintain their activities, and without it would struggle to find any alternative funding, since there are no other similar sectors that would provide such relevant and broad support. Additionally, this report established the enormous value to the community gained from this brewing sector support and that the general public have broad acceptance and appreciation of this, as it greatly enhances the social, economic and cultural benefits to individuals and to society in general.
Conclusion
This report shows how important brewers' involvement in the community is for the European Union and its citizens. Brewers are recognised by the general public as traditional and legitimate supporters of many local and regional activities, ranging from sport to culture and from community to charity. The majority of brewers' support happens at local and regional level and so does not generate media attention, but it provides many benefits to the community and to the well-being of European citizens. The value of the provision of over € 900 million per year by brewers is clearly an essential benefit and support both to rights owners and to the community as a whole.