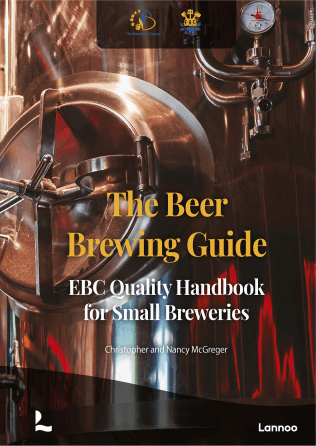 The Beer Brewing Guide
EBC Quality Handbook for Small Breweries
---
The must-have brewing guide for small brewers
The "Beer Brewing Guide - EBC Quality Handbook for Small Breweries", authored by Chris and Nancy McGreger, is the latest must-have brewing guide for small brewers – irrespective of the length of their experience – as well as upcoming professional brewers who are currently designing their brewery and project. It points out at all the crucial stages and quality control points a brewer must look at with great care and gives practical advice on how to deal with these potential hurdles to ensure and manage quality throughout the entire process, from ingredients delivery to shipping the packaged beer out of the brewery.
This comprehensive guide is the most up-to-date quality handbook that craft and small brewers must not only have on their shelves in their brewery, but use on a daily basis to put in place quality control and quality management processes that will help them to improve and maintain beer quality over time.
Price
The "Beer Brewing Guide - EBC Quality Handbook for Small Breweries" is available for 49.99€ (excl. shipping cost). However, if you are member of one of The Brewers of Europe's national associations (see list here), you can benefit from a 10% discount and get the book at 44.99€ (excl. shipping cost).
How do I order the book?
The book can be ordered online here. For all enquiry about shipping cost and shipment, please contact Lannoo. For all questions regarding the "Beer Brewing Guide - EBC Quality Handbook for Small Breweries", please contact us at info@brewup.eu.
What about the discount?
The discount is only available to members of one of The Brewers of Europe's National Associations (see list here). If you are a member, click on "My profile" in the top banner, and then on "National Association Membership" and indicate your national association. An email will be sent to the national association which will be asked to confirm your membership. Once membership will be validated, an email will be sent to you. You will then be able to reconnect and generate your individual discount code and continue the purchase. If you have questions on membership, please contact us at info@brewup.eu.
Testimonials from brewers and beer professionals
---
this Guide provides you with up to date insights and practical guidelines for your daily operations to guarantee the highest quality standards for your beers.
---
A lot has been said and written about the taste of beer and there is probably a lot more to come. Preferences and taste differences between drinker are evident but, at the end of the day, good beer is just good beer. And it is very important, but quite difficult, for today's brewers to bring good beer to the market. Not only one time, but on a repeatable basis. Not only a few days after filling, but even after months of staling on warehouses all along the supply chain. Not only with limited offers and very special recipes, but also and above all with his/her flagship beers dedicated to the majority of beer lovers. This very practical and easy to read handbook gives technical guidance to brewers who want to achieve success in this fantastic job. Other aspects are also addressed by the author like, among others, efficient quality control, safety for workers and food safety culture, traceability and process recording. Readers will find a lot a qualitative advice which can steer a brewer to his goal: give to his/her beer the taste he wants it to have.
---
Every once in a while, a brewing handbook hits the shelves that manages to put scientific principles governing the production of beer into understandable clear language, enlightening and informing the reader on finer points of successfully brewing beer. Thorough explanations on what exactly happens during the various stages of beer production are interspersed with well-founded advice on how to ensure quality - quality in process, as well as quality for the final product. This book is a must for all brewers regardless of their portfolio of brands, or size, of their breweries.
---
A useful and comprehensive guide, outlining the full breadth of topics involved in the production of good quality beer. Ideal for small scale breweries. A good read. Detailed enough to be of useful, but not overwhelming.
---
Dave and I embarked some 25 years ago into the unknown world of American craft beer. We were two home brewers with only a dream and simply put, quality is all you have in this competitive space. As a small brewer, you must master the art before you can sell beer. Books and periodicals like these are the manuals for success and a must read for anyone considering our industry.
---