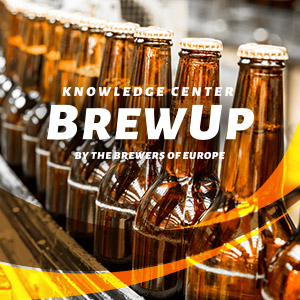 Downloads
Contribution made by Beer to the EU economy 2016
Contribution to the economy
This is the 2016 edition of The Brewers of Europe "The Contribution made by Beer to the European Economy" that shows the importance of beer to the European economy, elaborating on its importance for the agricultural and supply sector, for the hospitality sector and to government revenues. It provides data with regards to the direct and indirect employment generated by the brewing sector.
Other editions are available for download
---
The EU is the second largest beer producer in the world, after China. There are over 6,500 active breweries, which produced around 383 million hectolitres of beer in 2014.
Domestic consumption has declined over a number of years, affected by wider macroeconomic trends, but is increasing in 2014 in line with the early stages of economic recovery.1 Total consumer spending was over €110 billion in the EU in 2014. In part this reflects companies innovating with new craft and specialty offerings appealing to changing consumer tastes. On-trade consumption has continued to decline in most countries, but there are more exceptions now than before (e.g. Spain and Italy both saw an increase in the on-trade share of consumption in 2014).
The brewing sector in Europe is also a major exporter. EU countries sold over 27 million hectolitres of beer outside the EU in 2014. Some countries' exports (intra and extra-EU) represent more than half of their total production (notably Belgium, the Netherlands and Denmark). Most countries import significant amounts of their consumption and export significant amounts of their production (10% or more of consumption is imported and similar shares of production are exported).
Enormous numbers of jobs depend on the continued success of beer in Europe. The total contribution of beer to employment was around 2.3 million jobs in the EU (around 1% of total EU employment) in 2014, which includes:
nearly 130,000 jobs in the brewing sector alone (this is in companies producing beer);
a further 290,000 jobs in supply sectors (in industries like agriculture, packaging and services, which depend on the €16 billion spent on domestic purchases by brewing companies); and,
1.65 million jobs generated by beer sales in the on-trade hospitality sector (e.g. bars, pubs and hotels) and over 270,000 jobs in the off-trade retail sector (e.g. supermarkets or specialist shops).
Significantly, nearly 95% of beer-generated employment occurs outside the brewing companies themselves. In fact, 1 job in the brewery creates over 17 jobs in the wider economy.
These workers make a significant contribution to economic growth. The total contribution to value added in the EU in 2014 was around €51 billion. This would be comparable for instance to the total GDP of Croatia or Luxembourg.
In the EU, in 2014 there was:
nearly €16 billion in value added in the brewing sector itself;
a further €8 billion in value added generated in the supply sector; and,
over €23 billion in value added generated in the hospitality sector (the on-trade) and over €4 billion in the retail sector (the off-trade).
The contributions to employment and value added have increased from 2013 to 2014. The largest increases occurred in the new Member States and, among the major EU economies, Italy and the United Kingdom.
Governments gain significant revenue from taxes on products (VAT and excise duties) and labour incomes earned in the supply chain. The total contribution of beer to government revenues was nearly €42 billion in the EU in 2014:
VAT charged on beer sales produced around €19 billion in revenues (almost €13 billion on-trade and over €6 billion off-trade);
taxes on labour income earned by workers in the brewing sector, supplying industries and the on- and off-trades produced around €12 billion in revenues; and,
excise duties charged on beer sales produced around €11 billion in revenues (the highest excise duty rates are currently charged in Northern Europe and rates have increased the most in recent years in Northern European countries).
All of this evidence provides a persuasive case that the beer sector is large and successful, making a material contribution to the meeting of overall goals for economic policy in EU Member States. However, the environment could be challenging if volumes decline as a result of difficult economic circumstances, and there is a need to constantly innovate to be able to supply changing consumer tastes and competitive global markets. Governments can maximise the economic impact of the sector with policy choices including a moderate tax burden.