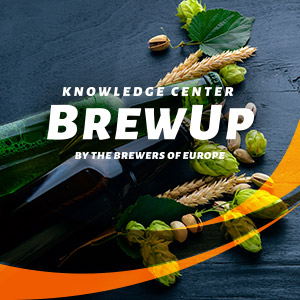 The Brewers of Europe launches "BrewUp", a 2.0 knowledge portal for Europe's brewers
Friday, 1 December 2017 – Today, The Brewers of Europe released BrewUp, a knowledge portal for Europe's brewers. BrewUp provides information on how to brew, market and advocate for beer. BrewUp has been developed in order to meet the expectations of brewers of all kinds, large and small, from newcomers to experienced operators.
BrewUp contains information that can be accessed by anyone as well as information that is only available to the breweries that belong to The Brewers of Europe's national member associations.
Pierre-Olivier Bergeron, Secretary General of The Brewers of Europe said: "We are proud to have developed this new platform for members and brewers across Europe with the aim to assist them in their day-to-day business. We are looking forward to users' feedback so that we can further populate and improve this unique resource with the support of our national associations".
BrewUp is available on www.brewup.eu and on The Brewers of Europe's website (www.brewersofeurope.org)