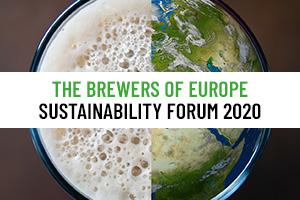 The Brewers of Europe: Virtual Sustainability Forum
The Brewers of Europe has announced the dates of its first Sustainability Forum, a partner event of EU Green Week.There will be six virtual sessions over two days on 20-21 October 2020, focusing on sustainability of beer production and how brewing can help biopersity and the environment.
From unpicking relevant policy to the latest technical solutions, the event aims to be unmissable for those who want to know more about 'brewing green' and those who wish to debate how European companies should support the EU Green Deal.
Event highlights:
Insight from policymakers and specialists on how the EU Green Deal impacts brewing and how beer producers can contribute to the Green Recovery.
Leading small, medium and large breweries explain their approach to sustainability ambitions and initiatives.
Hear from brewers with practical examples and best practice case studies about the latest techniques for:

increasing biopersity with co-products,
improving energy efficiency of their brewery
reducing waste in packaging and water conservation.
EU Green Week
The EU Green Deal remains one of the six cross-sectoral priorities for the European Commission, relating to the UN Sustainable Development Goals that are important strategic ambitions across the world.
The Brewers of Europe and its members are vital components of this strategy and will demonstrate how they can contribute to the overarching European and global commitments and ambitions.
As an official partner of the European Commission's EU Green Week this October, sessions at The Sustainability Forum will help participants understand how sustainability policies will affect brewers and what it means for the sector.
How to brew sustainably: technical sessions for brewers
Brewers have long encouraged sustainable practices in brewing processes, through supply chains, and in how beer is consumed and enjoyed.
From small to large brewers, each can make changes that benefit our planet – the technical sessions will showcase just some of the best examples of how this is already being done.
From harnessing geothermal energy, to returning nutrients to nature, people aim to have a positive impact on our world and beer production can be part of a sustainable future. This event will show you how.
Register your interest
The Brewers of Europe invites you to register for the event and to contribute your own views and expertise. Read more on brewing4.eu.